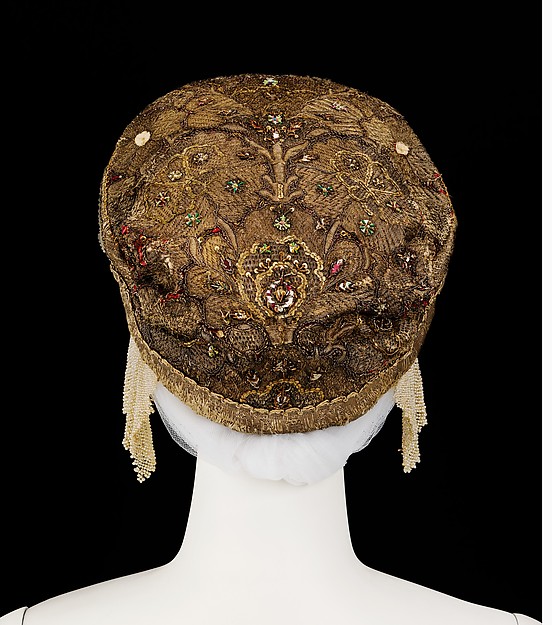 Headdress, 1790-1810, Russian
Met Museum
This object is from the collection of Natalia de Shabelsky (1841-1905), a Russian noblewoman compelled to preserve what she perceived as the vanishing folk art traditions of her native country. Traveling extensively throughout Great Russia, she collected many fine examples of textile art of the wealthy peasant class. From the 1870s until moving to France in 1902, Shabelsky amassed a large collection of intricately embroidered hand-woven household textiles and opulent festival garments with rich decoration and elaborate motifs. The Brooklyn Museum holdings include many fine examples including the majority of the garments. Portions of Shabelsky's collection are also housed at the Museum of Fine Arts, Boston, the Cleveland Art Museum, and the Russian Museum of Ethnography in St. Petersburg.

Headdresses, or kokoshniks had the greatest abundance of ornamentation of any type of garment in Russia. They were most often made of damask woven with gilt metallic threads or velvet with gold embroidery. The wealthy peasant class often decorated their kokoshniks with pearls and gemstones. The maker of this bridal headdress employed traditional design motifs such as the tree of life on the back caul, the goddess, the confronting birds on the front panel symbolizing good luck, as well as the bride's initials. It was collected in the Kaluga Province on the Oka River, where freshwater pearls were abundant. The pearl forehead ruffle is woven so finely that is moves like fabric. The caul of the headdress is so heavily embroidered that the red velvet ground is nearly invisible. The quality of workmanship and materials combined with the elaborateness of this piece suggest the bride was from a wealthy and important family.


1 year ago, 29/06/13 | 49 notes
#Accessories #Headdress #Traditional Costume #decade: 1790 #decade: 1810 #1790-1810 #18th Century #19th Century #Russian #Met Museum
the1800s reblogged this from inspiringdresses