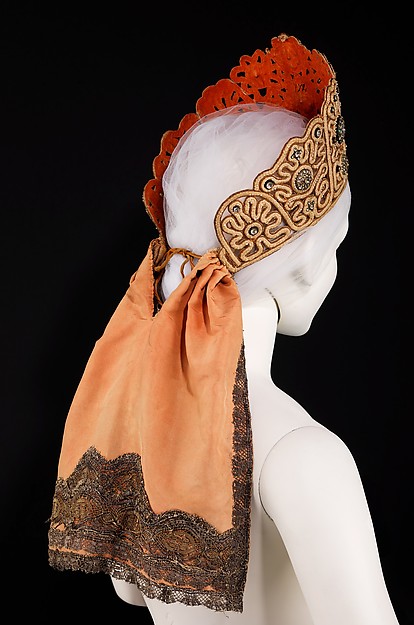 Headdress, 1795-1805, Russian
Met Museum
This object is from the collection of Natalia de Shabelsky (1841-1905), a Russian noblewoman compelled to preserve what she perceived as the vanishing folk art traditions of her native country. Traveling extensively throughout Great Russia, she collected many fine examples of textile art of the wealthy peasant class. From the 1870s until moving to France in 1902, Shabelsky amassed a large collection of intricately embroidered hand-woven household textiles and opulent festival garments with rich decoration and elaborate motifs. The Brooklyn Museum holdings include many fine examples including the majority of the garments. Portions of Shabelsky's collection are also housed at the Museum of Fine Arts, Boston, the Cleveland Art Museum, and the Russian Museum of Ethnography in St. Petersburg.

Diadems with open tops such as these were only worn my unmarried women in order to showcase their hair, considered a prize possession. Russian beliefs stated that evil could be worked against a married woman if her hair was exposed; therefore they were required to hide their hair under a full headdress.


1 year ago, 30/06/13 | 67 notes
#Accessories #Headdress #Traditional Costume #decade: 1790 #decade: 1800 #1795-1805 #Russian #Met Museum